Sawgrass SG500 A4 Sublimation Printer & Standard Size Ink Set Sawgrass SG500 A4 Sublimation Printer & Standard Size Ink Set
Unit(s)
---
A4 Dye Sublimation Printer - Includes:
• Sawgrass Print Manager
• CreativeStudio Online Designer
• SubliJet UHD Sublimation Inks - Standard Size 31ml
• 2-Year Product Warranty
SG500 Dye Sublimation Printer

The Perfect Start to Personalization
Kickstart your business with the Sawgrass SG500, the only desktop printer designed for sublimation. With low start-up and running costs, you'll soon be creating customized products with vibrant HD images - quickly, easily and profitably. 
Designed to minimize ink and power consumption while maximizing quality and efficiency, the SG500 enables you to create the highest definition images with the lowest per image cost.

The SG500 has the compact footprint and rugged reliability of its similar predecessor, the SG400, but has been updated from the inside out. In addition to design improvements such as a single roll-bar, the SG500 is more energy-efficient, prints with higher resolution, and offers WiFi connectivity*. This means you'll enjoy higher quality products and greater ease of use, at a price comparable to the previous model.
Backwards Compatible
The SG500 is backwards-compatible with SG400 accessories. If you already own a bypass tray for the SG400, you will be able to continue using it. This allows you to print on media up to 51˝ long (1295 mm).
Like all Sawgrass printers, the SG500 performs its own automatic maintenance cycle for trouble-free printing. For complete peace of mind, the SG500 comes backed by a 2-year warranty, in addition to unlimited tech support for the life of the product.
*depending on your network this can be very slow we always recommend connecting with Ethernet or USB cable.



Expert Color Management Software
Designed by Sawgrass, Print Manager is the only colour management software designed purely for sublimation.
It's easy to use and allows you to choose from preset or customized profiles for optimal colour output. SPM helps streamline production workflows from all standard design software, including CreativeStudio.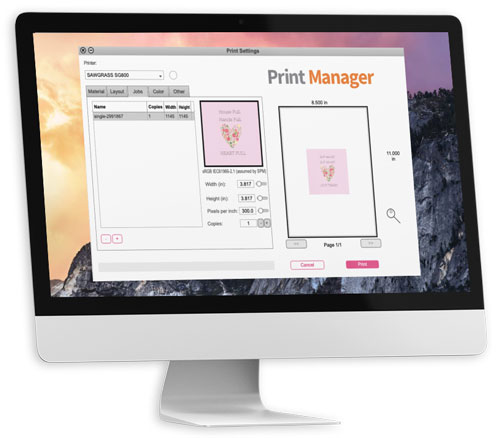 Minimum System Requirements
Please consult with your distributor to ensure you have an adequate computer system to effectively run not only the printer software, but your chosen graphic software programs as well.
System Requirements to run Sawgrass Print Manager
Windows Operating System (a 64-bit operating system is required)
Recommended: Windows 10
Minimum Required: Windows 8
Apple OSX / MacOS Operating System (a 64-bit operating system is required)
MacOS 10.13 - 10.15
Minimum RAM: 4GB
Recommended RAM: >8GB
Minimum CPU: Dual Core CPU
Recommended CPU: Quad Core or greater
Minimum Free HDD Space: 10GB Free
Minimum Screen Resolution: 1024*768 pixels at 100% zoom
Supported Design Software for File -> Print Workflow
CreativeStudio Online Designer
CorelDRAW X6 - 2018
Adobe Illustrator CS6 or later
Adobe Photoshop CS6 or later
Photoshop Elements 15 or later
Supported File Types for Local File > Open or Smart Folder Workflow
CreativeStudio: .sgz
Other: .jpg, .jpeg, .png, .bmp, .heic, .heif, .tiff, .pdf, .eps, .ps
Minimum Resolution: 300DPI
Files must be created from supported design software
Supported Printers & Ink Sets
SG400/800: Sublijet-HD, Chromablast-HD, FabricMaker-HD, EasySubli
VJ-628: Subljet-HD (Dual CMYK, ProPhoto, ProPhotoXF, Flex)
The VJ-628 is not compatible with MacOS. Microsoft Windows is required.
* Sawgrass reserves the right to limit support to customers using less than the minimum stated requirements * Only Windows Professional, Business, Enterprise, and Ultimate Editions have been tested and approved.
CreativeStudio System Requirements
Browser Recommendation
CreativeStudio is compatible with most widely-available internet browsers. However, Sawgrass strongly recommends using Google Chrome. Click here to download Google Chrome. To confirm that you are using the latest version of Chrome, click the Chrome menu on the browser toolbar and select "About Chrome." The page should indicate if your browser is up to date.
Internet Connection Speed Recommendations
Designs with photos or simple vector graphics render quickly, even on the minimum recommended internet connection speeds. However, designs with numerous elements or complex vector images may render slowly on slower internet connections. Minimum Connection Speed: 5Mbps downstream, 2Mbps upstream Recommended Connection Speed: 10Mbps+ downstream, 5Mbps+ upstream To test your connection speed, please visit https://www.speedtest.net
Sawgrass reserves the right to limit support to customers using less than the minimum stated requirements.




CreativeStudio is a Cloud-based Design Software Built for Sublimation.
CreativeStudio is easy to use and spares you from having to search for product templates or royalty-free artwork. CreativeStudio is included free with every SG500 & SG800 sublimation printer purchase. It is an online cloud-based design tool that allows you to easily start creating from thousands of built-in graphics and templates made for dye sublimation.

Start Creating Personalized Products in Three Easy Steps

Step 1: Create
Select a product from a huge selection of templates, including mugs, coasters, T-shirts and more! Choose one of the thousands of print-ready designs and carefully curated images. To personalize and customize your designs you can change the colours, fonts and backgrounds, or subtract and add elements - including photos of your own!
Step 2: Print
By selecting Print within the CreativeStudio menu bar, you'll be prompted to name your file. Clicking "OK" will open SPM, from which you can select your substrate, brand of paper and send the file to your Sawgrass printer.
Step 3: Press
Use heat tape to secure your product to the sublimation paper and place it between protective paper on your heat-press or mug press. Press for the required time and carefully remove with heat protection gloves. Remove the tape and your personalized product is complete!